By any reasonable standard, Florida State University quarterback Jameis Winston had a remarkable 2013-14 football season athletically. Just a redshirt freshman, Winston:
Passed for over 4000 yards
Threw 40 touchdown passes, the most ever in the Division I Football Bowl Subdivision (FBS) by a freshman, setting an Atlantic Coast Conference (ACC) record
Led his Florida State Seminoles to an undefeated season in which they consistently beat their opponents by astounding margins of victory
Became the youngest person ever, and only the second freshman, to win the prestigious Heisman Trophy as college football's most outstanding player
Passed for the game-winning touchdown with just seconds left in the game to help the Seminoles win their first college football national championship since 1999 as he garnered Most Valuable Player honors
On top of all this, Winston lit up televisions around the country all year long with his enthusiasm, bright smile and charm.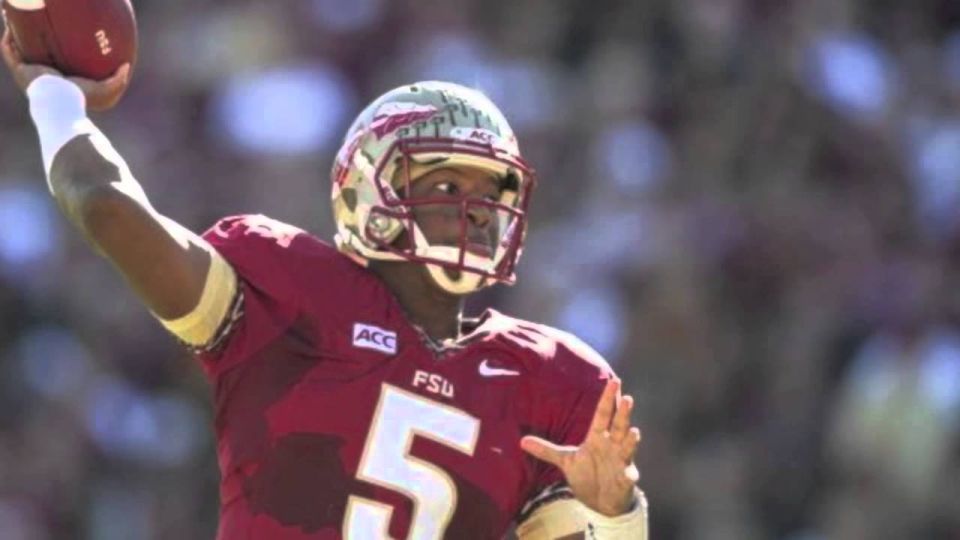 (Photo of Jameis Winston thanks to Zennie62 on Flickr)
Off the field, however, Winston faced a serious challenge.
For the last month of the season, the Florida State Attorney's Office was investigating a complaint of sexual assault against Winston. The investigation made for headline news and called into question not only whether Winston would be eligible to lead the Seminoles in the last games of the season and in a possible national championship game – since, if charges were brought, he would be declared ineligible – and not only whether, despite his stellar performance, he might be denied the Heisman Trophy, but whether he could eventually go to prison.
Ultimately, on December 5, 2013, just days before the ACC championship game and the deadline for Heisman voting, Florida State Attorney Willie Meggs announced, in a widely-publicized and controversial press conference, that the state would not file charges against Winston or anyone else in the case. But for nearly a month, Winston played, and continued to perform at a historically high level, while the cloud of the investigation and a possible felony charge hung over him.
So how did he manage to maintain such a standard on the field despite the pressures of incredibly high expectations combined with being the subject of a high-stakes investigation?
Well, Robert Smith, a former NFL running back and frequent guest discussing football on the sports television network ESPN, has a theory. Perhaps Winston exhibits some of the traits of psychopathy.
Outside the Lines (OTL) is a television show on ESPN that examines critical issues related to sports on and off the field. On January 7, 2014, the day after Winston's MVP performance in the national championship game, the episode of OTL focused on various aspects of his dramatic 2013-14 season.
The podcast with audio of the episode is available here. I couldn't find a way to embed it so you'll have to click through to listen or download it.
At the 7:47 mark in the show, a clip is played of a reporter interviewing Florida State's head football coach, Jimbo Fisher, about Winston's ability to play consistently well despite the off-the-field stressors. The clip goes like this:
Reporter: "What makes him so good at avoiding clutter and no matter what goes on he's always the same guy?"
Fisher: "I think he's very mature. I think he has the ability…he has strength in his beliefs in what he does. And he's very mature that way. A lot of grown ups can't do that. He can prioritize and compartmentalize when he has to do certain things and to me that's a sign…cause it gets back to controlling what you can control at that present time and I think he's done a very good job of that."
OTL's host, Bob Ley, then says to Robert Smith:
"We have seen that, Robert, vividly. Alright. Help us civilians understand how an athlete…this was just not an off-the-field distraction, I mean some people minimized it calling it that. This was perhaps your life and liberty here hanging in the balance…how someone is able to focus like this on a game which is, of course, the focus of what they're doing right now along with their schoolwork, and put this other stuff aside and excel like this."
Smith responds:
"Well let me preface this by saying I'm not saying that Jameis Winston is a psychopath, OK? But now that the season's over I'm going to have a little bit more time to read. There's a book out there called The Wisdom of Psychopaths and it talks about certain jobs where some of the traits – being task-oriented, being so driven, the ability to focus like a psychopath – helps them perform better whether it's an airline pilot, a surgeon, and I would certainly argue at the quarterback position having some of those traits, the ability to be so meticulous, to be so detail-oriented, to have such a short memory of failure and to be able to come back and to keep performing – I think that was the trademark of Jameis Winston."
Then at the end of the segment that includes Smith, Ley says "Robert Smith, thank you so much. Educating us also on psychopaths. We appreciate that."
Now, like Smith, I also want to emphasize that I am not claiming that Winston is a psychopath. There is not a sufficient basis on which to make such a claim and it would be absolutely irresponsible to do so.
However, Smith's mention of the topic in relation to this story is interesting from the perspective of someone interested in ponerology on several levels.
Having psychopathy raised by a football analyst on the most popular sports television network really indicates how mainstream this topic has gone in the wake of so many movies, books, television shows, and other media focused on it being released in recent years.
This is not the first time that psychopathy has come up in relation to sports and been covered on this site. Last year we published "Goalkeeper David James Speculates on Psychopathy in Professional Soccer." And James was also interviewed about the subject on the British television show Psychopath Night, which aired just last month. As an overall issue, the influence of psychopathy and other conscience-reducing conditions in sports is ripe for consideration, especially in light of criminal activity among certain athletes, a subject explored in Jeff Benedict's books such as:
As far as the specific case of Jameis Winston, it is a good example of the incredibly complex dilemma that the possibility of psychopathy or related disorders poses for us in assessing others.

On one hand, Winston is someone who has been accused of a terrible violent crime. On top of that, his alleged victim still maintains her claim that she was sexually assaulted by him and vows to bring a civil suit against him. So, although Robert Smith emphasizes that he is not claiming Winston is a psychopath, when he then points out that Winston, with his remarkable coolness under pressure, does exhibit some of the traits of psychopathy, it takes on a new meaning in light of those accusations against him. And Smith didn't even mention another hallmark of psychopathy, superficial charm, which some could interpret as being applicable to Winston's demeanor.

Yet, on the other hand, Winston was not charged with a crime and may be completely innocent, in which case he is himself the victim of false accusations and it would be an utter travesty to even imply that he may be a psychopath simply for being mentally tough on the field and charming off of it. In fact, if his upbeat, enthusiastic, inspiring attitude is genuine, then the same behavior that might otherwise be viewed as psychopathic charm instead makes it even more reprehensible to besmirch him.
So what is the ultimate moral of this story? It is one that can't be repeated often enough.
It is imperative that we learn about and discuss the influence of conditions like psychopathy. Yet, at the same time, it is just as imperative that we be extremely cautious in labeling any individual as having such a condition. It is a difficult balancing act, but one that is unavoidable in these times, not only when talking about business and politics, but in regards to all areas of society…even the world of sports.
Would you like to help support us in bringing you more news and information like this?
Please consider donating.
Categories: Crime, Television Shows

Tags: bob ley, crime, david james, espn, florida state university, football, heisman trophy, jameis winston, jeff benedict, jimbo fisher, nfl, outside the lines, psychopath night, psychopathy, robert smith, sexual assault, sports, the wisdom of psychopaths, willie meggs
1 Comment »
« Channel 4's Psychopath Night an Intriguing and Valuable Overview of Psychopathy | Home | Five of the Most Important Minutes in Television: Anderson Cooper Interviews James Fallon about Reducing Psychopathy & Psychopaths in Power »
One Response to "Ex-NFL'er Robert Smith Raises Psychopathic Traits in ESPN Discussion of Heisman-Winning Quarterback Jameis Winston"
Alisa Says:
October 16th, 2014 at 10:40 PM

I've been saying this all the time, Winston has no conscience and since he got away with rape he continues to commit these actions because Florida State continues to enable him by not making him assume responsibilities for his actions.
Leave a Reply