A couple of months ago, we shared a story about a pilot episode for a CBS television show based on the work of a very intriguing professor who works on issues at the heart of ponerology. That person is Adrian Raine, professor of criminology, psychiatry and psychology at the University of Pennsylvania.
Today's Wall Street Journal features a sizeable piece by Raine as its "Saturday Essay."
The title of the essay is "The Criminal Mind" and underneath the title it says "Advances in genetics and neuroscience are revolutionizing our understanding of violent behavior—as well as ideas about how to prevent and punish crime."
It doesn't get much more relevant to ponerology than that. And it's heartening to see Raine given a platform to share his extremely important and provocative ideas in The Wall Street Journal just in advance of the release of his book The Anatomy of Violence: The Biological Roots of Crime.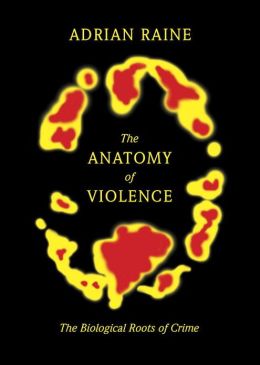 Raine's essay touches on:
The history of criminology as a science and its sometimes unfortunate devolution into pseudoscience
The rise of neurocriminology
The roles of genetics, environmental and developmental factors and brain structure and function in the emergence of aggression and antisocial behavior
The political and social implications of a focus on biological bases for crime
Recommendations for legal policies that account for our growing ponerologic understanding by both assigning appropriate levels of responsibility to offenders and optimally protecting the rest of society from the threats they pose
Measures – including some relatively non-invasive ones – that can help significantly reduce the likelihood of harmful behavior in children that display signs of severe aggression
The article is accompanied by the video below. In it, Raine explains the relationship between diminished prefrontal cortex activity and violence, how such prefrontal dysfunction originates and possible treatments for such conditions, as well as how those with normal prefrontal activity but undersized amygdalae can also commit violence in a more planned and calculating fashion.
Raine also offers his opinion in the video about the Tsarnaev brothers who bombed the Boston Marathon.
Would you like to help support us in bringing you more news and information like this?
Please consider donating.
Categories: Books, Crime, Newspapers, Online News, Research

Tags: adrian raine, aggression, amygdala, boston marathon bombings, criminology, genetics, legal system, neurocriminology, neuroscience, prefrontal cortex, the anatomy of violence, the wall street journal, tsarnaev brothers, violence
No Comments »
« Jodi Arias Case Inspires Public Recognition, Television Discussions of Empathy-Reducing Conditions | Home | CNN's Dr. Sanjay Gupta Considers Boston Marathon Bombings in Light of Anatomy of Violence Author Adrian Raine's Work »
Leave a Reply