Last night, a friend of mine read over the blog post that introduces the series I wrote on a number of topics centered around ponerology. Since that post is rather long, it gave us some time to chat as she read and we were discussing why ponerology is such an important subject. I had just explained to her how pivotal the issue of those with reduced levels of conscience and empathy attaining positions of power is when, just to check the news, I surfed over to Yahoo.com.
I found it remarkably coincidental that, at that very point in our discussion, Yahoo's homepage happened to be featuring the story highlighted in the image below.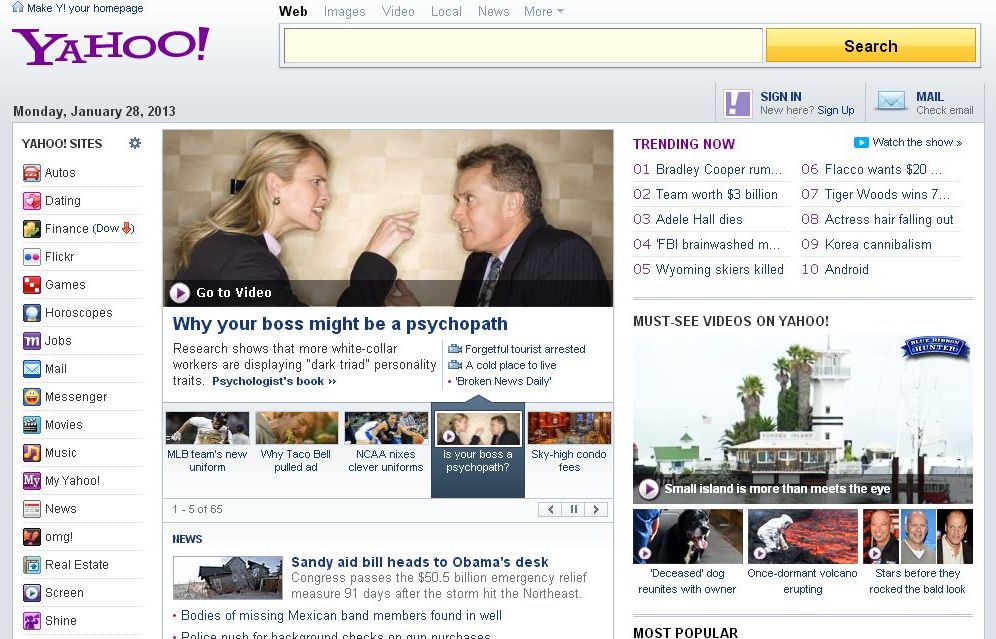 This is not the first time a story of this kind has been prominently featured in the news in recent years. In fact, the frequency with which it seems to be happening has added some validation to my sense of how crucial a topic this is and helped confirm my suspicion that my own dedication of time and energy to learning and writing about it is part of a growing awareness about it in the world as a whole. Each time I witnessed the release of another article or news story or book representing that growing awareness, my desire to document this dynamic and catalog these examples grew.
Seeing this story featured on Yahoo at such a coincidental time in the midst of a discussion with a friend on that very topic rekindled my desire to create a resource to carry out this documentation.
Noticing that the story was going to be about a "psychologist's book," I assumed this would be another article – adding to a recent flood of such articles – about Kevin Dutton's book, The Wisdom of Psychopaths. But when I clicked through and found out it was actually about yet another new book related to ponerology, this was the last nudge I needed to finally create this site.
The headline actually links to the video below and discusses research described in the book Office Politics, which is the latest from the British psychologist Oliver James. James is also the author of Affluenza. Since I have long promoted many of the ideas featured in – and implied by the title of – Affluenza, I was further validated that James' path, just like mine, has led from concern about those topics to awareness of the role played by these ponerologic issues and the importance of educating people about them.
The video is actually a segment of the "Broken News Daily – a ridiculous take on the headlines" and has a comic tone to it, even as it describes very important information. It also alludes to the comedy film Horrible Bosses, jokingly modifying the title to Psycho Bosses. I think it's great that information related to ponerology, so often delivered in a serious fire-and-brimstone tone, also be, at times, promoted with some levity. There is a long history of comedy helping make the medicine of potentially disturbing but crucial information go down easier.
The segment focuses on James' message that an increasing number of white collar workers are displaying traits associated with the "dark triad" – a term referring to psychopathy, narcissism and Machiavellianism – and his identification of what he calls the "triadic person" who displays a combination of traits associated with all three and often ascends the hierarchy in work organizations
Judging from the comments on the piece, the segment seems to have done a great job stirring up discussion and a lot of people relate to the concept of authority figures with psychopathological traits.
Would you like to help support us in bringing you more news and information like this?
Please consider donating.
Categories: Books, Online News

Tags: affluenza, conscience, dark triad, empathy, kevin dutton, machiavellianism, narcissism, office politics, oliver james, ponerology, power, psycho bosses, psychopathy, the wisdom of psychopaths, triadic person, yahoo
3 Comments »
Home | German Neurologist Identifies Brain Region "Where Evil is Formed & Where It Lurks" »
3 Responses to "Yahoo's Comedic Feature on Psychopathic Bosses Inspires Launch of PonerologyNews.com"
Los Says:
February 14th, 2013 at 2:31 PM

Seems there's been an effort to distort the understanding of psychopathy in the mainstream news and other media. I'm not a fan of Dutton's work as he seems to glorify psychopathy and makes some glaring distortions. Thought you may be interested in SOTT's recent radio show that discusses the topic: "Are Psychopaths Cool? Uncovering the predators among us"

admin Says:
February 14th, 2013 at 2:45 PM

What I'm hoping to document here is the growing correction of that distortion in the news and other media. I'm finally seeing more and more stories accurately treating psychopathy and related disorders as what they really are.

Like you, I have qualms with Dutton's work for the reasons you stated.

That is an interesting radio show topic you mention. I have very mixed feelings about SOTT. They do some good work promoting awareness of ponerology, but they also discredit it to some extent by mixing it in with some very dubious, non-scientific speculation. I think if ponerology is going to become more widely accepted, it needs to adhere to rigorous scientific standards. Otherwise it simply becomes associated with conspiracy theory and gets thrown out with the bathwater.

Announcing My Latest Project: New Website Dedicated to Promoting Wide Range of News and Information Related to the "Science of Evil" Says:
March 3rd, 2013 at 1:44 PM

[...] first post on the new site tells the story of the discussion and Yahoo headline/article that inspired its [...]
Leave a Reply