This site was started in order to play a part in amplifying the increasing level of attention being paid to ponerology-related topics in the media. In keeping with this mission, over the years, I've posted about a variety of instances in which these topics have made news.
I've shared about relevant pieces that appeared on:
Surprisingly enough, there was even a ponerology-related moment on the sports network ESPN, which I also highlighted here.
What you'll notice is that all of the aforementioned media outlets are ones with national reach. And that's good news – pun intended – because it means that, through stories like the ones to which I've linked, large audiences are receiving information about, as well as being encouraged to consider, the influence of those with low empathy and conscience.
However, there is also something to be said for the impact of a story appearing in local news. Some people feel a closer tie with their local media outlets – whose personalities can come to seem almost like part of their family and with which they may have been engaging ever since childhood – and, therefore, might trust them more. Or they may feel that, if a story makes it to their local newspaper, radio program or telecast, it has more personal relevance to them than they do when they encounter it in a national outlet.
I have posted about at least one ponerology-related report from local news – a "Healthy Living" segment on KABC-TV in Los Angeles that focused on the work of Dr. Ronald Schouten and James Silver, authors of Almost a Psychopath: Do I (or Does Someone I Know) Have a Problem with Manipulation and Lack of Empathy?
But, for whatever reason, while there seems to have been a minor explosion of coverage on this subject in larger media outlets, it has been relatively rare that I've come across it in local media.
However, I was pleasantly surprised this week. See the rest of this entry…
Topics: Education, Newspapers, Online News | No Comments »
I spent decades thinking, writing and engaging in activism dealing with a variety of issues related to enhancing health and sustainability on many levels. A few years ago, I achieved a major breakthrough in my understanding of these issues when I realized that all of them, essentially, involved one core issue: human ethical choice. Specifically, I became aware that in order to most effectively and strategically address any of these issues, it was crucial to understand that humans differ in how they make ethical choices and that these differences involve many factors, including biological ones.
Just as I was making this realization, thanks to a number of resources on the topic, it seemed that much of the rest of the world was beginning to make the same realization. More and more stories related to the neuroscience of moral choice were coming out everywhere I looked. And dramas and books centering on psychopaths – perhaps the most fascinating examples of the stark difference between some humans and others in how they make moral choices – were attracting large audiences.
So I started this blog in order to help amplify this awakening to a new understanding about the factors underlying moral choice and, in turn, the types of events we refer to as "evil."
Here on the blog, I've featured many stories that highlight the growing knowledge base at the intersection of neuroscience and morality. And today I read a quote that sums up well my feeling about this area of knowledge:
"It's a field that's waiting for a big revolution sometime soon." See the rest of this entry…
Topics: Online News, Research | 1 Comment »
The other day, on January 10, 2014, I suddenly saw a huge increase in traffic to this site. Investigating, I found that it was coming from a surge of people searching for information relating to Anderson Cooper's show on CNN, Anderson Cooper 360, and a "psychopath test."
So I looked into it.
It turned out that, on that day, Cooper had done a segment with James Fallon, the neuroscientist who, in the process of studying the genetics and brains of psychopathic killers, discovered that he himself, despite being a successful non-violent researcher, had many of the genetic and brain markers associated with psychopathy.
I wrote a very detailed post about Fallon and his fascinating story last year called "Neuroscientist James Fallon's Work & Life Shed Light on How Psychopathic Killers are Made…and Perhaps Prevented." So I won't cover that in any more detail here.
But Fallon has recently released a book about his story called The Psychopath Inside: A Neuroscientist's Personal Journey into the Dark Side of the Brain. And, in the wake of the book's release, he has been showing up more frequently in the media, sharing his insights about psychopathy, its impact in the world, and what his story tells us about the possibility of reducing the number of psychopaths that develop, which is wonderful.
The interview with Anderson Cooper is below and, even though this clip is only five minutes long, it could be five of the most important minutes I've ever seen on television.
See the rest of this entry…
Topics: Personal Profiles, Television Shows | 2 Comments »
By any reasonable standard, Florida State University quarterback Jameis Winston had a remarkable 2013-14 football season athletically. Just a redshirt freshman, Winston:
Passed for over 4000 yards
Threw 40 touchdown passes, the most ever in the Division I Football Bowl Subdivision (FBS) by a freshman, setting an Atlantic Coast Conference (ACC) record
Led his Florida State Seminoles to an undefeated season in which they consistently beat their opponents by astounding margins of victory
Became the youngest person ever, and only the second freshman, to win the prestigious Heisman Trophy as college football's most outstanding player
Passed for the game-winning touchdown with just seconds left in the game to help the Seminoles win their first college football national championship since 1999 as he garnered Most Valuable Player honors
On top of all this, Winston lit up televisions around the country all year long with his enthusiasm, bright smile and charm.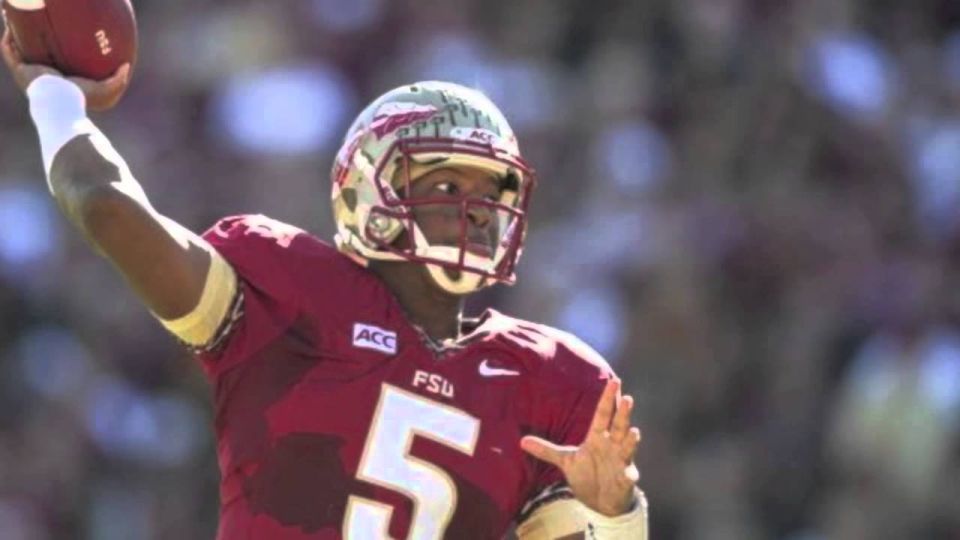 (Photo of Jameis Winston thanks to Zennie62 on Flickr)
Off the field, however, Winston faced a serious challenge.
For the last month of the season, the Florida State Attorney's Office was investigating a complaint of sexual assault against Winston. The investigation made for headline news and called into question not only whether Winston would be eligible to lead the Seminoles in the last games of the season and in a possible national championship game – since, if charges were brought, he would be declared ineligible – and not only whether, despite his stellar performance, he might be denied the Heisman Trophy, but whether he could eventually go to prison.
Ultimately, on December 5, 2013, just days before the ACC championship game and the deadline for Heisman voting, Florida State Attorney Willie Meggs announced, in a widely-publicized and controversial press conference, that the state would not file charges against Winston or anyone else in the case. But for nearly a month, Winston played, and continued to perform at a historically high level, while the cloud of the investigation and a possible felony charge hung over him.
So how did he manage to maintain such a standard on the field despite the pressures of incredibly high expectations combined with being the subject of a high-stakes investigation? See the rest of this entry…
Topics: Crime, Television Shows | 1 Comment »
For those that don't know, Channel 4 is a public service television network that broadcasts throughout the United Kingdom.
Earlier this month, on Saturday, December 14, 2013, Channel 4 aired Psychopath Night.
Psychopath Night is an approximately 90-minute show that engages many leading experts, psychopaths/sociopaths themselves – including convicted serial killer Charles Albright and a supposed sociopathic lawyer who goes by the pseudonym M.E. Thomas – and even the parent of a child psychopath, in order to explore a number of areas relating to psychopathy.
Below is the trailer for the episode:
The areas explored include: See the rest of this entry…
Topics: Crime, Films, Television Shows | No Comments »
The other day, I was discussing with someone the recent story about George Zimmerman's girlfriend accusing him of pointing a gun at her. We both agreed that the interesting part of the story wasn't so much that Zimmerman was in trouble, but that Zimmerman – a man who has quite a lot of very recent baggage, not much seemingly going for him, and, having only been served with divorce papers days ago, is married – even has a girlfriend. We both wondered why a woman would want to be his girlfriend at the moment in the first place.
Apparently, Saturday Night Live did too, as they led off this weekend's episode with a sketch in which this very question is asked.
Now, I am not claiming that George Zimmerman is a psychopath or has any other specific conscience-reducing disorder. I really have no ability to make a judgment on that. However, the conversation about his romantic situation did lead me to explain to my conversation partner that those that are psychopaths or do have certain related disorders are notorious for their ability to attract many romantic and sexual relationships. I mentioned some of the fascinating research, which I cover in my foundational page about psychopathy, about just how successful some of history's most ruthless killers have been in spreading their genes.
Well, as so often happens after a deep discussion about an intriguing topic, it wasn't more than a couple of days before a new, highly relevant story emerged in the news. See the rest of this entry…
Topics: Books, Humor, Magazines, Online News, Television News, Television Shows, Theory, Websites | 1 Comment »
I've been a big fan of the band Pearl Jam for many years. And they just released a new album (which, incidentally, is the #1 album in the US as of this writing) so I've been listening to it a lot over the last few days. In particular, the album includes what I think is one of their best songs ever, "Sirens". The song is about mortality and how fragile life and love are in the face of it.
So I've been grateful to them for connecting me to those issues and feelings through the song. But then, last night, they connected me to them in another way that is extremely relevant to ponerology.
Pearl Jam performed on "Late Night with Jimmy Fallon" last night. Well, technically, their taped performance from an earlier time was played. In fact, they played a live show in Hartford, Connecticut last night. So after watching the airing of their performance on Fallon's show, I was just looking around on Twitter to see what people were saying about it.
Instead, I ran into this tweet from the band regarding the show in Hartford:
"Come Back" was dedicated to Avielle Richman who would've turned 7 on 10/17. @AvieFoundation @sandyhook #PJHartford pic.twitter.com/WCvMqlkHXt

— Pearl Jam (@PearlJam) October 26, 2013
I was instantly hit with a mix of heartbreak for the obvious tragedy the tweet alluded to and curiosity about what the "Avie Foundation" was all about.
So I clicked through to their Twitter account. See the rest of this entry…
Topics: Activism, Crime, Music, Research | No Comments »
Back in June, I came across a post by Linda Cockburn on her blog, Living the Good Life. Linda studies environmental law and her blog focuses on issues of sustainability. Its tagline is "Our ongoing attempts to live as sustainably as possible."
The post that I came across is entitled "I am angry!" and, in it, Linda expresses her despair about the state of the world and the futility of placing hope in and comforting ourselves with small daily pro-sustainability lifestyle changes in the face of destructiveness on such a massive scale. Like many who have wrestled with this viewpoint, Linda appears to have been influenced by Derrick Jensen, since the post features an image of the graphic novel he produced along with Stephanie McMillan, As the World Burns: 50 Simple Things You Can Do To Stay In Denial.
I was moved by what Linda was expressing in that post so I left a comment to share with her the idea that psychopathology may play a key role and to let her know about the field of ponerology, which has shed so much light on issues like this for me.
Linda responded right away with a comment that showed interest in those topics.
Then, a few weeks later, I got an email from Linda. She said my comment had thrown her off on a tangent looking into the ideas I had mentioned in the comment. She also said she was inspired to write an article about ponerology and how screening for psychopaths might improve workplaces, governments, the environment and the world at large. She wanted to interview me for this article.
A couple weeks after that I received a set of interview questions from Linda.
At that time, I was under the impression that Linda was writing an article for her blog that would just consist of the text of her questions and my responses. So I answered the questions at great length, thinking these would make up the bulk of her post. Only later, after I had responded, did I learn that she was actually writing a feature article for an Australian magazine called The Monthly, whose readers share an interest in law, politics and management.
Linda was then kind enough to share the early drafts of her article with me to get my feedback. As her editing process continued, though, it became clear to her that – perhaps because I had answered the questions having misunderstood their purpose or perhaps for other reasons – the information from the interview wasn't well-suited to this particular article that she was writing, after all. However, since her questions had helped to surface some valuable information, we both agreed that it made sense for me to just post the interview, in its entirety, here on this blog.
As of this writing, Linda's article is not yet published. If and when it is, I will link to it here.
So, without further adieu, here are Linda's questions and my responses. See the rest of this entry…
Topics: Activism, Miscellaneous | No Comments »
Many throughout the world consider Ariel Castro, the Cleveland man who abducted three girls and held them captive for approximately ten years, a monster. On August 1, 2013, Castro was sentenced to life in prison plus 1000 years. At the sentencing hearing that day, Castro spoke. He took this opportunity to tell the world that he is "not a monster." In the process of doing so, he claimed that this decade long ordeal was due to his addiction to porn and also seemed to, stunningly, come very close to blaming his victims for their own abduction.
That evening, on his CNN program, Anderson Cooper 360, Cooper discussed with a number of guests the events of the hearing and Castro's behavior during it, including his persistent shirking of responsibility. Throughout the show, the topic of psychopathy was front and center. In fact, the words "psychopath" or "psychopathy" were used 19 times during the episode. And, unlike in many cases, they were used appropriately and accurately.
What was most heartening was that Cooper, as well as several of his guests, exhibited a genuine understanding of how important it is to expose the public to and educate them about the true nature of psychopaths. A number of important lessons about them were conveyed during the episode.
The focus on psychopathy was evident right from the get-go. At the beginning of the show, before playing the first footage from the hearing, Cooper prefaced it by saying:
"Now it's very rare to see someone who may be a true psychopath justify their crimes. Today in court on live television, we saw just that." See the rest of this entry…
Topics: Crime, Television News | No Comments »
Recently, I shared news about one of the more clever products that I've seen in a while – Narcissist cologne made by Kim Taylor. At that time, I shared that Kim is not only a purveyor of a scent that subtly reminds us of the importance of justice and reciprocity, but that she distributes that scent through her company, the name of which also embodies those values – Fair Play Products.
In addition, Kim is a writer whose bio states that she is a "former professor of languages" who was a Fulbright Scholar.
So I was quite curious when Kim let me know that she had written a new book dealing with the topic of narcissism and related themes about which we both feel strongly and was kind enough to send me a copy. See the rest of this entry…
Topics: Books | No Comments »
Next Entries »